To limp in on the button means to only call the big blind in the best position. Most players would raise any hand that they would play on the button simply because post flop they can see every one act before them. Sometimes used to disguise a big hand, and sometimes just to chase some kind of suited connector or marginal hand.
In my books I've often given some uncompromising advice. Don't limp preflop, ever. In this article, I walk that back just a little bit.
I think most people limp way too often. The biggest problem limping comes when people are "trying to see a flop" — with the goal being either to make a great hand or (much more likely) to end up folding either on the flop or turn. When you limp this way, you end up playing hands like this.
A player limps. You limp next with K 5 for $5 in a $2-$5 game. The next player raises to $25. The first limper calls, and you call. There's $82 in the pot.
The flop comes J 6 5. The first limper checks, you check, and the preflop raiser bets $45. The first player folds, and you call.
Poker All In Button
The turn is the A. You check, and the preflop raiser bets $90. You fold.
The total loss in this hand was $70. That, by itself, doesn't make playing the hand bad. However, for hands like these to be profitable, the relatively common $70 losses you will endure must be more than compensated by wins. In practice, you will need both fairly frequent small wins plus occasional large wins to make up for the steady losses.
The fact is, most $2-$5 players who limp and play hands like this one don't win pots often enough or big enough to make up for the losing pots. And, therefore, they are slowly leaking money every time they make one of these limps.
My goal with my "don't limp preflop ever" advice is to encourage you to cut hands like these cold-turkey from your game. Don't wean yourself off this habit. Just get rid of it entirely. For most $2-$5 level players, just stopping this bad habit will improve your bottom line substantially.
But the reality is more nuanced. In fact, if you truly adhere to my "don't limp preflop ever" rule, you are missing a few opportunities. And if you are an excellent post-flop player for your level, by refusing to limp, you are sometimes missing a whole lot of opportunities. So here are a few situations where limping can be good.
When The Stack Sizes Are Awkward
The first time limping tends to make sense is when the stack sizes are awkward. Say your opponents in a $2-$5 game are playing a range of stack sizes from $80 to $1,500. A few players are in the $150-$250 range. A few others are in the $500-$1,000 range.
There may be many hands that you'd be happy to play, perhaps, against a bad player with $800. Let's use 8 5 as an example. The problem is, however, that as soon as one of the shorter stacks enters the pot, your hand loses all its value. Because while your 8-5 might make money if you have plenty behind to play with against the bad player, if you're forced to commit most of the money preflop and on the flop, 8-5 just isn't very good.
So say a player limps, and then the bad player with $800 limps in middle position. You're in the cutoff with 8 5. In one of the blinds is the player with the $80 stack, and the button has $220.
If you raise here, and either the button or the very short stack decides to play, then you've lost most of the value of your hand. The $80 stack might just reraise you all-in. Or the $220 stack could call you on the button, and now you have to play the weak hand out of position with a small stack-to-pot ratio.
It's probably better to limp and hope the shorter stacks either limp along or fold out. If the guy with $80 decides to shove all in, you can just fold your limp. But, if all goes well, you should be able to see a flop against the bad player with $800.
In this case, limping is almost as good as raising when you look at your upside (playing a hand in position against a bad player), but it goes a long way to limit your downside when things go wrong. So in these situations, go ahead and limp.
When You Expect To Get Action
The classic rationalization for limping goes like this. "I want to see a flop. If I miss, I know how to get away from the hand. But if I hit it, I can win a big pot."
In today's games, the assumption, "If I hit it, I can win a big pot," is often very wrong. Players aren't falling all over themselves to call huge river bets with beaten hands. In some games, it can be hard to find someone willing to pay even $50 or $100 to see your flush.
Limping tends to be not-so-good when no one at your table is willing to pay off river bets.
But not every game in 2016 is nitty. When you do find a great game with lots of river action, this old logic for limping becomes more correct. The more you can rely on winning a big pot for your big hands, the more you should try to see flops cheaply with marginal starting hands.
Not only should you play some marginal hands for a limp that you might not play in a nittier game, but it can also make sense to limp some hands that you might raise in a nittier game. For example, a hand like 10 8 can be a great bluffing hand in a nitty game, and I might raise that hand on the button to set up a likely post-flop bluff.
But in a loose game where there's a lot of action, there's less incentive to raise the hand preflop, and you might be better off just limping in.
Final Thoughts
I was a little hesitant to write this article, since I think that most people, most of the time, are making errors when they limp into pots in $1-$2 and $2-$5 level no-limit games. The "no limping ever" advice works great to cut out all these bad plays with one simple rule. If you think you are prone to making limping errors, then I would suggest staying strong with no limping ever.
But if you feel like you have a handle on bad limps, and you want to figure out how to add limping back into your game in a positive way, these two situations are good places to start. You can limp in with some hands when you'd like to play a pot against a particularly bad player, but the stack sizes of some of your other opponents will making playing a raised pot awkward. And you can also limp into pots when you perceive that your opponents are particularly likely to give you action on a big hand.
If you try out limping in these situations, you should see some good results. ♠
Ed's newest book, The Course: Serious Hold 'Em Strategy For Smart Players is available now at his website edmillerpoker.com. You can also find original articles and instructional videos by Ed at the training site redchippoker.com.
Welcome to Two Plus Two, the world's largest poker strategy resource online and in print. Our online poker forums, are home to over 400,000 players. Two Plus Two publishes best selling poker books written by David Sklansky, Mason Malmuth, and Dan Harrington among others. Our strategy books are available at local retailers as well as online through Amazon. For additional poker news and for poker strategy articles check out our poker magazine published monthly.
Online Poker Strategy From Two Plus Two Interactive
Online Poker Forum
The Two Plus Two Poker Forums provide thought provoking discussions on poker and gaming topics. With one of the strongest poker and gaming communities, members can expect to find up to date news, poker instruction, gossip, and even book reviews.
We are proud to say our poker forum has approximately 500,000 members and more than 50,000,000 posts including the poker archives, making us the leading resource for online poker strategy. Our poker forums cover all aspects of gaming and other topics of interest to the poker community.
Online Poker Magazine

Our online poker strategy magazine is available each month and offers top quality poker and gaming information, vigorous debate, and a little bit of fun. Our monthly poker magazine is free and includes articles written by many of the 2+2 authors. The January 2+2 Poker Strategy Magazine is now available.

Sponsored Support Forums and Threads

In addition to poker strategy forums, Two Plus Two is also home for established sites for online poker, poker affiliates, poker coaching, and poker resources. You can also find sponsored support threads for poker affiliate sites and poker bonuses.
Two Plus Two Publishing LLC
Poker and Gaming Strategy Books
Two Plus Two publishes the finest books on poker, poker strategy and other gaming topics. Our books are written by the best authors in poker and gaming, such as David Sklansky, Mason Malmuth, Ray Zee, Dan Harrington and Bill Robertie along with John Feeney, Matt Flynn, Nick 'Stoxtrader' Grudzien, Donna Harris, Geoff 'Zobags' Herzog, Sunny Mehta, Ray Michael B, Ed Miller, Collin Moshman, Dan Paymar, Alan Schoonmaker, and Sylvester Suzuki
Two Plus Two gaming and poker books are available at booksellers. Titles include some of the top selling poker strategy books online, including Theory of Poker, Sit and Go Strategy , Harrington on Holdem, and Harrington on Cash Games among others.
Two Plus Two poker books are now translated into multiple languages including German, French, Spanish, Italian, Swedish, Norwegian, Hungarian, Finnish, Russian, Polish and Portuguese.
Recent Two Plus Two Titles
No Limit Hold 'em For Advanced Players: Emphasis on Tough Games
by Matthew Janda
In 2003 poker was put on television and no-limit hold em quickly became the most popular form of poker played in casinos, public cardrooms, and on the Internet. At first, because of the newness of the game to most participants, they could be easily be beaten by players with only a moderate knowledge of sophisticated strategy. more ...
Poker and More: Unique Ideas and Concepts
by Mason Malmuth and David Sklansky
Poker is a game of many different concepts and ideas, and the relative importance of these ideas has changed over the years as different forms of poker gain and lose popularity. more ...
Real Poker Psychology
by Mason Malmuth
During the last few years, there has been much new information produced that comes under the heading of poker psychology. The idea is to cover that area of poker which is less strategic but still important to one s overall success at the game, and a new area of mental coaching has appeared. more ...
Harrington on Modern Tournament Poker
by Dan Harrington and Bill Robertie
Over the last ten years, the enormous growth of interest in poker and poker tournaments has led to an intense focus on the theory of tournament poker. The result was a re-examination of old ideas and the introduction of many new ones. The fundamentals of no-limit hold em did not change, but the game was revealed to have more depth than many older players could have anticipated. more ...
Applications of No-Limit Hold 'em
by Matthew Janda
One of the most daunting moments in a poker player's career occurs when he realizes his knowledge of how to play a specific hand well is incomplete without the additional understanding of how to play every other hand in his range well. This task would be impossible if a player had to actually think about every other hand in his range, but by understanding theoretical sound poker, he can quickly design balanced ranges using the proper bet-sizing while playing. more ...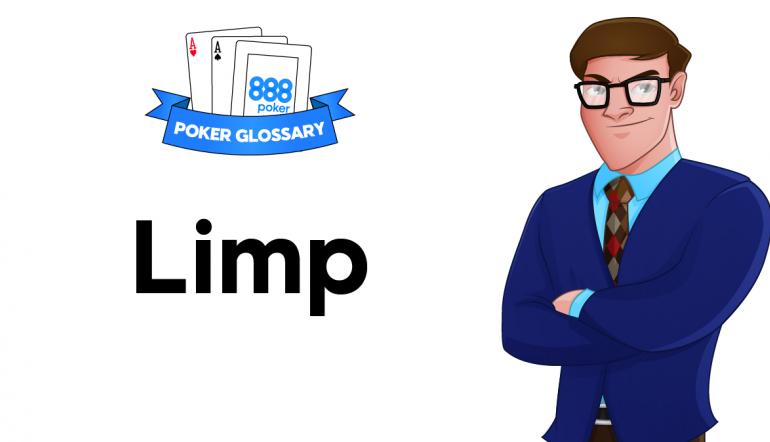 Limp The Button In Poker